General Electric Products
www.geappliances.com/products/brands/ge.htm

Feel free to contact us or visit our showroom for information regarding the complete product line.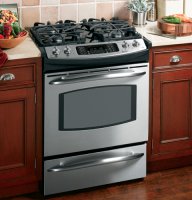 At GE we ask, "Why predict the future when you can create it?" From our earliest days, our company has used the tools of research, combined with a little inspiration, to create the world of tomorrow. The legacy of GE's ingenuity offers a rich history we are proud to share with the world.Charles Proteus Steinmetz, already a distinguished industrial scientist, was hard at work as GE's chief consulting engineer. After years of persuasion, Steinmetz convinced the GE leadership that the company would need a research laboratory to maintain its edge in lighting and electricity and also finding new areas to grow.

Elihu Thomson, a founder of the company, summed up the mission of the lab: "It does seem to me therefore that a Company as large as the General Electric Company, should not fail to continue investing and developing in new fields: there should, in fact, be a research laboratory for commercial applications of new principles, and even for the discovery of those principles."Charles Coffin, GE's first CEO, agreed and the GE Research Laboratory was born in the carriage barn in Steinmetz's back yard. Willis Whitney, a young chemistry professor from MIT who had been conducting experiments for GE, was invited to become the first director.